Learn How to Gain Full Insight into your product and your supply chain.
REACH is one of the strictest regulations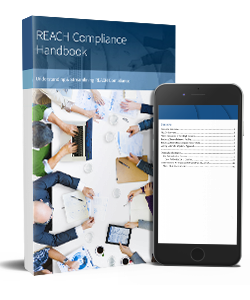 in the world, controlling which chemicals can be present in goods shipped to or sold in the EU. Chances are, your business or your clients are affected. You need to be confident in your chemical inventory management and record-keeping to keep operations running smoothly.
This straightforward handbook gives you the fundamentals steps of REACH compliance. It's the perfect jumping-off point for any business concerned about REACH compliance.
Sneak Peek at what you get:
How to make sure you're always in the know about the most up to date REACH list of banned substances.
Best practices for tracking Substances of Very High Concern (SVHC) to make sure your business isn't at risk.
The ability to capture SVHC data throughout your supply chain so that you're protected from upstream risks.
Information about the chemical authorization process that enables you to use certain banned chemicals.