Environmental professionals in the paints and coatings industry often wonder how to effectively calculate VOC emissions from solvent waste to avoid over-reporting while improving air compliance. If you need to accurately track and report VOC emissions from your waste, this guide is essential for you.
Industrial waste collected from purging or flushing contains both paint and solvents. The most challenging aspect of calculating VOC emissions from waste derived from the purging process is knowing the percentage of paint present in the waste for the VOC emission calculation. Without this vital information, you risk over-reporting and falling out of compliance with regulations and your permits.
ERA's team of scientists has a series of accurate and tested calculations that you can use in your facility to effectively deduce the ratio of paint to solvent. Download your free copy of the eBook by completing the form. You'll get an email sent to your inbox immediately.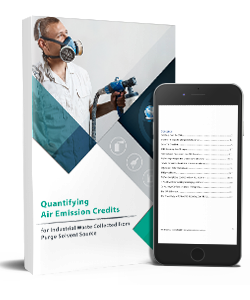 This emission credits for purge solvent waste source guide will outline:
Processes that produce solvent waste and VOC emissions.

Calculations for waste allocation and speciation for waste recording.

How to use the 'paint to solvent' ratio to calculate waste amounts.

How to avoid overreporting emissions from purge solvent source.

Ways to reduce air pollution from solvents and improve air compliance.