Businesses in both the United States and Canada need to ensure that their SDS solutions are up-to-date and prepared to meet current GHS regulatory requirements. The GHS transition in 2017 changed chemical hazard communication standards significantly. As businesses shifted from MSDS to SDS, the business realities of hazard communication compliance changed drastically.
Today, regulations around SDS languages and transportation labelling should also be constantly monitored. Keeping on top of these dynamic and challenging factors should be part of any coherent SDS authoring effort.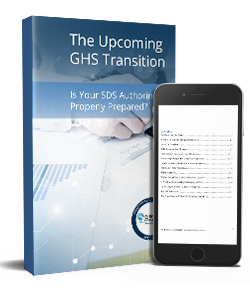 With this specially compiled eBook, you will learn:
How the GHS transition affected hazard communication.
The best ways to produce SDSs in the current regulatory environment, for both American and Canadian businesses.
New ways in which language and translation requirements impact your SDS authoring.
How to make sure your labeling for transportation of goods stays GHS compliant.