The transition to the Globally Harmonized System (GHS) marks a major shakeup in the safety landscape. Even if you've already changed your old chemical data sheets to the GHS, there's still work to do in complying with the international regulation. We created a guide that covers everything concerning GHS hazard classification, so you can implement a bullet-proof classification system and help your business comply more easily.
After reading this guide,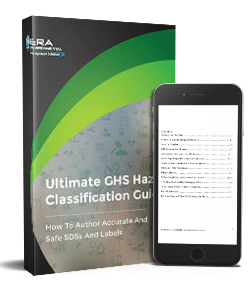 you'll understand:
How to author an SDS for any type of chemical material

The step-by-step process for classifying a chemical hazard

The logic behind GHS hazard classes and categories

The most effective way to communicate hazards

The tools you need to ensure your SDSs are accurate and reliable
This eBook contains everything you need to know about the GHS hazard classification system. From authoring an SDS to understanding how things have changed in the past few years, this guide will walk you through, step by step.