Do you struggle to understand GHS chemical classifications?
ERA experts have put together this guide outlining the determination of Acute Toxicity Categories for your chemicals. If you work with SDS for health and safety or environmental reporting purposes, knowing this method will save you time and ensure that you have accurate chemical information.
Comprehensive Acute Toxicity Calculation Method
This short eBook gives you all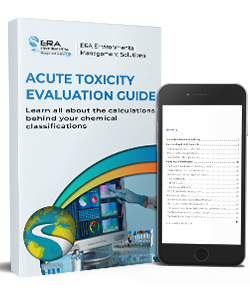 the information you need to evaluate the acute toxicity category of your chemicals and blends, along with example calculations for defined products.
By reading this guide, you will learn:
Acute toxicity categories and definition

How to use GHS purple book formulae to calculate Acute Toxicity Estimate

Acute toxicity classifications for mixtures and blends, including a detailed chemical example

How ERA's system automates the process for SDS Authoring and Management