Automotive Executives: Get the Facts about Title V
Download this short Executive Briefing that gives you Just the Facts about Title V for your Automotive Manufacturing Business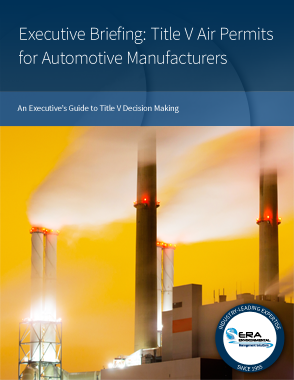 This guide tells you everything you need to know about Title V air permits as they relate to automotive manufacturing in order to make smart decisions about managing your compliance.
No fluff, just the facts about writing, renewing, and complying with your business' Title V air permit.
Executive Summary:
How much time to budget for Title V compliance.
How Automotive MACT relates to Title V.
4 best practices your EH&S employees should follow.
Learn if you are required to have a Title V permit.
Get your free executive briefing ebook now and get the on the inside track for Title V compliance.