Put these Powerful Tips to Work at Your Facility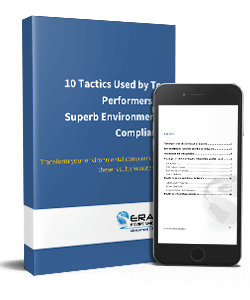 After working with top environmental performers for 25+ years, we've seen a some common trends emerge among the facilities that avoid fines and have good compliance records. We've compiled 10 of these exclusive strategies used by business partners with excellent environmental compliance track records into a short and sweet downloadable guide.
These companies include the world's leading automotive manufacturers, environmental award winners, LEED and ISO-certified manufacturers, and businesses with zero noncompliance penalties.
While there's no secret recipe for perfect environmental compliance, these top ten tips provide an important place to start for any business. You'll learn the habits of highly effective EHS teams and how to start implementing them today.
In this guide you will discover:
What it takes to achieve exceptional environmental compliance in terms of processes and workflows.
How to have

record-keeping so impressive, auditors will compliment you - no lie. How one client came out of an audit with the auditor singing their praises.
Simple ways to

reduce the cost

of your compliance processes.
The benefits of making environmental compliance a top priority,

without increasing your workload - because who has time for that?