MACT and NESHAP compliance reporting can be a time-consuming and expensive endeavor if you're not fully confident about the type of data you need to be collecting and disclosing to the EPA. Take the uncertainty out of your reporting process with this free PDF guide: Breaking Down the Automotive MACT.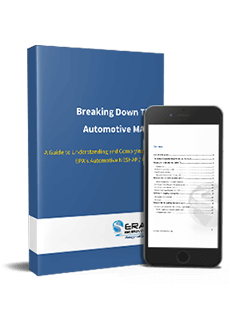 After working extensively with the automotive sector for over 25 years, ERA has amassed an in-depth understanding of the Automotive MACT and we want to give this knowledge to you. We've put together this guide to help you understand if you're affected and how you can comply.
In this straightforward guide you will learn:
How to tell if your facility is subject to the MACT and if you need to report.
What your emissions limits are for your coating processes so you can know if you exceed them.
Essential tips for protecting your compliance and avoiding fines.
Better ways to manage your MACT compliance that consume less resources.